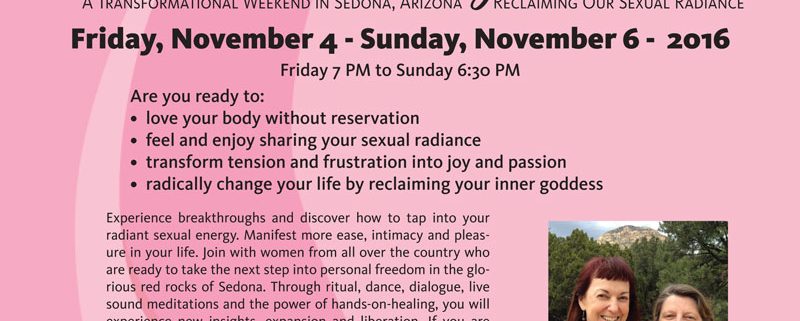 November 4-6, 2016
Friday, Nov. 4th, 7-9:30 pm
Saturday, Nov. 5, 9:30 am-6:30 pm
Sunday, Nov.6, 10:00 am-6:00 pm
Register- https://www.eventbrite.com/e/women-healing-women-weekend-tickets-26472751713
Come to the red rock magic of Sedona, Arizona and experience breakthroughs as you tap into your radiant sexual energy at our Women Healing Women: Reclaiming Our Sexual Radiance Weekend. You will quickly manifest more ease, intimacy and pleasure in your life as you engage your dynamic feminine self through sisterhood, meditation, ritual, hands-on-healing and dance.Old, limited beliefs about yourself as a sexual being will fall away and you will leave this weekend feeling your innate, enhanced juiciness and power!
"Cheryl and Crystal create a safe, inviting space for women to access more of their authentic selves beyond the facades, wounds and stories that can run our lives. Their combination of vulnerability and presence model the self-sovereignty that I came to the workshop to enhance in myself. I was very moved by my emotional experience, but also left with concrete tools and concepts to keep practicing in my daily life. I want every woman in my life to have the profound opportunity to uncover and develop her sensual, sexual radiance while being witnessed by her sisters, and this is what the Women Healing Women series offers." Kelly Cole, Sedona, AZ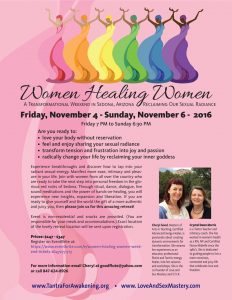 Video Testimonial from Kelley Alexander: https://www.youtube.com/watch?v=o1JKtQOGPzg
Location is a luxurious private residence in West Sedona. Address given upon registration
Lodging and meals not included. Luscious snacks are!. Low cost lodging available within walking distance of event.
To register contact: Cheryl at goodflute@yahoo.com or call 847-624-8926 or Eventbrite https://www.eventbrite.com/e/women-healing-women-weekend-tickets-26472751713.
Workshop Facilitators
Crystal Dawn Morris is a Certified SkyDancing Tantra Teacher and intimacy coach. She has worked in women's health as a RN, NP and Certified Nurse-Midwife since the 1980's. She is dedicated to guiding people to live a more conscious, connected and juicy life that celebrates love and freedom. She teaches internationally. www.tantraforawakening.org
Cheryl Good, Master of Arts in Teaching, Certified Advanced Energy Healer, is passionate about creating dynamic environments for transformation. She weaves her experiences as an educator, professional flutist and Tantric energy healer into her sessions and workshops.. She is the co-founder of www.LoveandSexMastery.com
https://www.tantraforawakening.org/wp-content/uploads/2016/10/CrystalWomenHealingNov2016good.jpg
1035
800
TFA Crystal Sedona
https://www.tantraforawakening.org/wp-content/uploads/2015/03/Tantra-for-Awakening-logo.jpg
TFA Crystal Sedona
2016-10-06 15:39:18
2016-10-06 15:52:28
Women Healing Women: Reclaiming Our Sexual Radiance Weekend