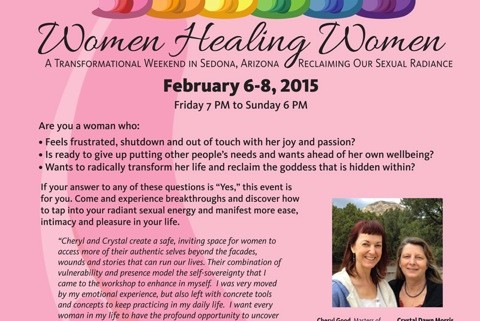 Women Healing Women February 2015
Reclaiming Our Sexual Radiance
A Transformational Weekend in Sedona, AZ

February 6-8   Begins Friday 7 PM – Ends Sunday 6 PM
Are you a woman who:
Feels frustrated, shutdown and out of touch with her joy and passion?
Is ready to give up putting other people's needs and wants ahead of her own wellbeing?
Wants to radically transform her life and reclaim the goddess that is hidden within?
If your answer to any of these questions is "Yes," this event is for you. Come and experience breakthroughs and discover how to tap into your radiant sexual energy and manifest more ease, intimacy and pleasure in your life.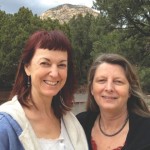 "Cheryl and Crystal create a safe, inviting space for women to access more of their authentic selves beyond the facades, wounds and stories that can run our lives. Their combination of vulnerability and presence model the self-sovereignty that I came to the workshop to enhance in myself.  I was very moved by my emotional experience, but also left with concrete tools and concepts to keep practicing in my daily life.  I want every woman in my life to have the profound opportunity to uncover and develop her sensual, sexual radiance while being witnessed by her sisters, and this is what the Women Healing Women series offers." Kelly Cole, Sedona, AZ
Early Bird Price: $247 ends January 31. Thereafter $297.
Register at https://www.eventbrite.com/e/women-healing-women-weekend-tickets-15021253975
For questions contact: Cheryl at goodflute@yahoo.com or call 847-624-8926
Location is a luxurious private residence in West Sedona. Address given after registration.
You Tube Testimonial at: https://www.youtube.com/watch?v=o1JKtQOGPzg&list=FLinVa2slDvYbeWXtj7YAvUg
https://www.tantraforawakening.org/wp-content/uploads/2014/12/CrystalWomenHealing2015.jpeg
626
480
TFA Crystal Sedona
https://www.tantraforawakening.org/wp-content/uploads/2015/03/Tantra-for-Awakening-logo.jpg
TFA Crystal Sedona
2014-12-23 14:25:21
2015-11-20 12:04:11
Women Healing Women February 2015