The Power of Shamanic Breathwork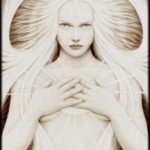 The 3 Keys of SkyDancing Tantra are breath, sound and movement and all are incorporated in the Shamanic Breathwork process. Breathwork is a powerful tool for healing and transformation. Over the years I have experienced may different forms of breathwork; from Lamaze breathing, when I had my kids, to body-centered therapy, and Osho's active breath meditations, so I wasn't expecting Shamanic Breathwork to be that that different from other things I had done before.
I was first introduced to Shamanic Breathwork by Linda Star Wolf and Brad Collins in Sedona, May of 2010. Since I was already familiar with breathwork and shamanism I mainly attended their event to meet them and show my support for their work. I was blown-away by my first Shamanic Breathwork journey. The combination of the music, circular breathing, shamanic healing and sacred art was profound. I recognized that this was something I wanted to become proficient at and share with others. Since then I have experienced the process 12 times. Each time has been powerful and unique. Over the past 9 months I have experienced many benefits from this work. It has unlocked and cleared old patterns and enhanced my ability to live in flow and trust Source.
Learn more about the upcoming trainings:
https://shamanicbreathwork.org/training/breathworkcertification/SBWsedona.php
Here are a few testimonials from others:
I have found the Shamanic Breathwork Process to be incredible for me at a personal level. It has helped to open doors that I didn't even know I had. It has also been a remarkable tool to use in my workshops for health professionals.
– Lee Lipsenthal, MD, ABHM
CEO, Finding Balance in a Medical Life
As holistic physicians, my husband and I are familiar with many different modalities and have seen the value in looking "outside the box" of traditional Western medical techniques. Shamanic Breathwork is one of the most powerful healing modalities we have seen. It gets to the heart of the physical, emotional or spiritual problem in order for shifts to occur very rapidly. In addition, it taps into the person's core strengths and honors the deep wisdom within us all, since true healing inevitably starts from within.
– Molly Roberts, MD, MS
Physician
Synchronicity Center & Canyon Ranch Health Resort
Tucson, Arizona
I confess that I approached the technique of breathwork with some skepticism as to its value, having tried so many experiences that failed to make a meaningful difference in my life. Well, all it took was a one day introductory Shamanic Breathwork session for me to know that this unique combination of altered state experiencing of guided, theme based teachings was an extremely effective method of processing core level issues, issues that can be huge stumbling blocks to our spiritual progress.
I am truly thankful for the blessing this program has been for me, and would highly recommend it to anyone dedicated to their spiritual journey. Nothing I have experienced previously has been more beneficial. It has made a believer out of me in the work being done here, and I intend to support it in any way that I can.
– Buzz Gibbs
Businessman and Entrepreneur
Gainesville, GA
https://www.tantraforawakening.org/wp-content/uploads/2015/03/Tantra-for-Awakening-logo.jpg
0
0
TFA Crystal Sedona
https://www.tantraforawakening.org/wp-content/uploads/2015/03/Tantra-for-Awakening-logo.jpg
TFA Crystal Sedona
2011-02-25 21:46:22
2015-06-06 22:36:59
The Power of Shamanic Breathwork