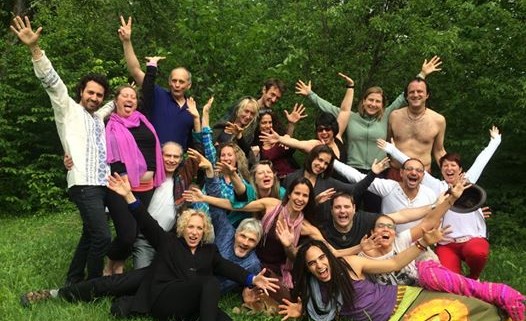 Three years ago I met Frank Mondeose in Sedona while he was attending a month-long ISTA apprenticeship program. We stayed up many nights talking about shifting global consciousness around spirituality, sexuality and shamanism. We decided that we would team up to bring my Tantra for Awakening workshops and Tantra Teacher training to Montreal as a way to seed the field. We also had the intention to bring the ISTA Conference on Sexuality and Consciousness and the SSSEX Training to Montreal when the time was ripe.  I am very pleased to report that we achieved our vision in 3 sort years.
Frank sponsored four  Tantra for Awakening Weekend Workshops which were part of the Art and Business of Teaching Tantra Program that Frank and others completed. Frank is now teaching Tantra events on his own.
Together Frank, I and his team put on 14th Annual North American ISTA Conference on Sexuality and Consciousness which was in Canada for the first time ever. It had over 30 presenters and was attended by over 150 people.
Following the conference we had the first Canadian Spiritual Sexual Shamanic Expereince (SSSEX) Training, which was attended by 19 people. The training was led by myself, Crystal Dawn Morris, and co-facilitated by Frank Mondeose and Laurie Handlers.  I am very pleased at how these events went and look forward to continuing to build the field of love in Canada.
https://www.tantraforawakening.org/wp-content/uploads/2015/08/11350434_1137995986227468_2718791832980618491_n.jpg
394
526
TFA Crystal Sedona
https://www.tantraforawakening.org/wp-content/uploads/2015/03/Tantra-for-Awakening-logo.jpg
TFA Crystal Sedona
2015-06-01 11:15:35
2015-11-20 11:49:56
The First Canadian ISTA Conference and SSSEX Training was a Big Success