Tantra & Conscious Relating Symposium with Margot Anand in Bali
ISTA's Tantra & Conscious Relating Symposium Bali
06 Apr 2012 – 07 Apr 2, 2012
ISTA's Spiritual Sexual Shamanic Training for Practitioners
East Bali – 09 Apr 2012 – 15 Apr, 2012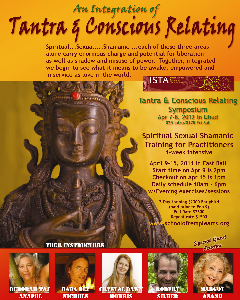 Learn more
Spiritual…Sexual….Shamanic …each of these three areas
alone carry enormous charge and potential for liberation
as well as shadow and misuse of power. Together, integrated
we begin to see what it means to be awake, empowered and
in service as love in the world.
Margot Anand, Deborah Taj Anapol, Baba Dez Nichols, Crystal Dawn Morris and Robert Silber.
https://www.tantraforawakening.org/wp-content/uploads/2015/03/Tantra-for-Awakening-logo.jpg
0
0
TFA Crystal Sedona
https://www.tantraforawakening.org/wp-content/uploads/2015/03/Tantra-for-Awakening-logo.jpg
TFA Crystal Sedona
2012-02-14 12:41:27
2015-06-06 22:28:39
Tantra & Conscious Relating Symposium with Margot Anand in Bali