Phoenix Rising: Dawn of a New Era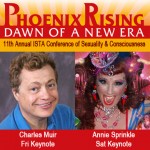 Sedona  May 4-6, 2012
I am very excited about this year's conference. The Sedona Spring Conference is a gathering place for like-minded individuals.  Join experts in their fields as they share their knowledge, learn new tools and synthesize the energies of sacred mind, sacred body, sacred spirit, sacred heart and sacred emotion.  Synthesis goes beyond polarity and creates new opportunities to love and be free.  Meet your next mate, seed your next project.  You do not want to miss this special gathering bringing 11 years of sexuality consciousness to a new level.
I will be one of the MCs of the event. I will also be offering two presentations:
Introduction to Shamanic Breathwork
Shamanic Breathwork™ is a powerful musical journey through the chakras that reconnects participants with their "Inner Shaman." In the process, old wounds and dysfunctional patterns are released and transformed; individuals may reclaim lost soul parts and remember their true nature. Shamanic Breathwork™  is an experiential process guided by the wisdom of each individual's Inner Shaman.  We will begin the session with a brief overview of the Shamanic Breathwork™ process. Participants will then lie down and focus on their intention and begin deep circular breathing, "until they are surprised." Drumming begins the journey and leads into a powerful musical journey process which will last about 40 minutes.
Each person's journey is a highly individualized and unique process. People report shifts in consciousness ranging from bliss states to releasing negativity from their psyche. An experience of being reborn is a common occurrence, as is a life review. Old patterns of dysfunction may be brought to the surface and healed. Feelings such as grief, fear, rage and anxiety are often released. New insights and solutions to life challenges may also be revealed.
A sacred and loving space will be held for the group and at times support may be offered in the form of bodywork, Reiki, Soul Return and various forms of Shamanic healing techniques. After the journey the participants will have an opportunity to express and process their experiences in dyads and /or a large group.
The Nine Dimensions of Love
2012 is a year of expanding awareness.  We are learning how to live as love. Human consciousness is being opened to 9 dimensions of awareness. In this session you will explore these nine dimensions and how love expresses itself through each one.  You will learn specific ways to become aware of your multidimensionality.
Come listen to the Keynote Addresses on Friday and Saturday by two pioneers in the fields of sexuality and Tantra,  Annie Sprinkle and Charles Muir
Debut Event!!! ISTA International Festival of Sexuality and Consciousness Films
Join us for the first ever Sexuality & Consciousness Film Festival May 3, 2012 kicking off in Sedona, home of the Sedona International Film Festival.
Kenneth Ray Stubbs will present a historic historic path from Erotic Massage to multi-dimensional Shamanism 1975-2012.  You do not want to miss this!
And, view the list of pre and post conference events by your favorite teachers.  Keep checking back as this list grows each week.
ISTA is a non-profit school serving as a resource and network for those who share a vision of love and harmony here on earth.  In addition to fascilitating educational conferences, trainings and workshops in over 50 countries, ISTA works with charitable organizations to globalize sexuality consciousness through collaborations and co-sponsored programs
https://www.tantraforawakening.org/wp-content/uploads/2015/03/Tantra-for-Awakening-logo.jpg
0
0
TFA Crystal Sedona
https://www.tantraforawakening.org/wp-content/uploads/2015/03/Tantra-for-Awakening-logo.jpg
TFA Crystal Sedona
2012-04-03 18:52:11
2015-06-06 22:27:55
Sedona Conference on Sexuality & Consciousness