Shamanic Breathwork Intensive Sept, 10-16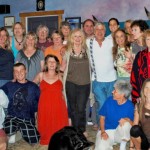 Dear friends,
I am very excited about the upcoming Shamanic Breathwork™ Intensive workshop led by Linda Star Wolf and Brad Collins. They are the founders of the Venus Rising Institute for Shamanic Healing Arts. Many of you may have heard of Star Wolf's work. She is a well known author; her latest book is Shamanic Breathwork; Journeying beyond the Limits of the Self. She and Brad have an extensive background in various breath work modalities, therapeutic processes as well as Shamanic healing practices. The Shamanic Breathwork™ Intensive is a powerful technique for healing and transformation.
I have used a variety of breath work practices over the years and found the Shamanic Breathwork™ to be a unique approach. I personally had an amazing experience when I attended their one-day event here on June 24th. My experience was so powerful that I decided I wanted to be trained in facilitating this process for others. I spoke with Brad and Star Wolf after that event and asked them if they would return here and teach the Intensive. I was delighted when they agreed, as the developers of this process they are exceptional teachers and guides.
This event is something you won't want to miss. Please look at Star Wolf and Brad's website to learn more about the training, https://shamanicbreathwork.org/index.php . The workshop is from September 10th through the 16th and will be held at the Sanctuary at Sedona. The link to the flyer is attached below with the details. You can come to the workshop for solely for your own healing experience and/or you can come with the intent to become a certified Shamanic Breathwork facilitator.
The Sanctuary is an ideal place to experience deep transformation. It is a powerful place to reconnect with mother earth and Spirit. There will be meals loaded with pure life force energy cooked by vegetarian chefs with ingredients from the garden. There are limited rooms and other sleeping accommodations available for those who would like to stay at The Sanctuary.
Please register as soon as possible to reserve your space in the workshop.
https://shamanicbreathwork.org/fliers/flyer_view.php?f=SBW-Sedona-091010&t=Shamanic
https://www.tantraforawakening.org/wp-content/uploads/2015/03/Tantra-for-Awakening-logo.jpg
0
0
TFA Crystal Sedona
https://www.tantraforawakening.org/wp-content/uploads/2015/03/Tantra-for-Awakening-logo.jpg
TFA Crystal Sedona
2010-08-08 20:56:09
2015-06-06 22:41:05
Shamanic Breathwork Intensive Sept, 10-16