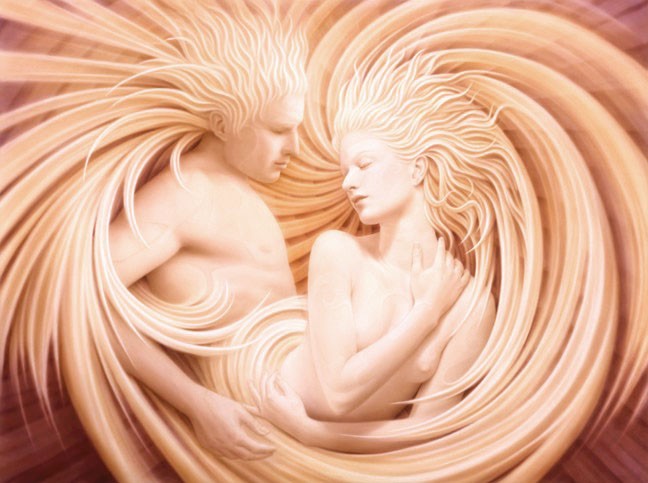 Montreal SkyDancing Tantra Workshop
February 7-9, 2014, Montreal, Canada
Awakening the Ecstatic Body: Opening the Path to Bliss
·

Open the "Inner Flute"

·

Explore and Attune the Chakras

·

Expand the Ability to Tap into Bliss

·

Learn to Communicate Desires Effectively

·

Experience a Heart-Opening Tantric Puja

·

Experience the a Powerful Tantric Ritual
Tantra, is an ancient body of wisdom, that opens the door to the recognition of our True nature. Through Tantric practices we can discover how to be more open, present and aware of our life-force energy. As our present-moment-awareness grows we discover an expanded sense of well-being, increased vitality and willingness to relax into the Now. Tantra recognizes that sexual energy is life-force energy. One way, we can become more aware of our life force energy is by exploring the seven primary energy centers in our body which are called "chakras." These centers are located along the spine, beginning at the perineum and continuing to the area at the crown of the head. There are a variety of practices to open up blocked energy in the body and allow it to flow naturally. This flow supports us in feeling more peace, joy and love in our body and in life.
In terms of our sexuality, Tantric practices help us open up and experience more pleasure and ease in our bodies. We learn how to circulate our sexual energy rather than expelling it. We learn how we can be relaxed in high states of arousal and expand orgasm beyond what we previously thought was possible. These experiences move us beyond mere sexual pleasure into the realm of awakening. We discover how to transform sexual energy into spiritual ecstasy.
By the end of the weekend you will feel an expanded flow of energy, awareness, and ecstasy throughout your being. You will leave this weekend with tools to create a more joyful, pleasure-filled, awakened life. This weekend is open to individuals and couples. There is no nudity or sexual activity in this class.
Friday night: 19:00 – 22:00 (Open to the public)
Location: 460 Ste Catherine West, Suite 908, Montreal, Canada
250$ per person + taxes and service
400$ per couple + taxes and service
300$ per person + taxes and service
$500 per couple + taxes and service
Posted by Crystal Dawn at 11:00 AM


https://www.tantraforawakening.org/wp-content/uploads/2012/04/amore-small.jpg
483
648
TFA Crystal Sedona
https://www.tantraforawakening.org/wp-content/uploads/2015/03/Tantra-for-Awakening-logo.jpg
TFA Crystal Sedona
2014-01-16 12:38:05
2015-11-20 13:02:34
Montreal SkyDancing Tantra Workshop