Crystal Dawn's Upcoming 2019 ISTA Events
The International School of Temple Arts (ISTA) is a global organism committed to shifting global consciousness. I have been teaching with them since 2008.
February 11-17, 2019 Costa Rica
ISTA L1 SSSEX with Crystal Dawn, Frank and Karam
Register at: https://www.istacostarica.com/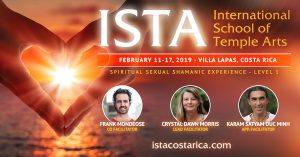 March 18- 31, 2019 Sedona, AZ
Shamanic Breathwork™ Skills for ISTA Faculty
with Linda Star Wolf, Nikolaus Wolf and Crystal Dawn Morris
Register at: http://shamanicbreathwork.org/vr_event/ista-shamanic-breathwork-training-certification-program-2/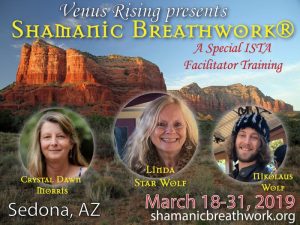 April 12- 19, 2019, Blue Ridge, Georgia
SSSEX Level 1 with Crystal Dawn Morris, Frank Mondeose and Avishag Maya Zloof
More info: https://sexualrenaissance.com/ista-blue-ridge-georgia-usa-april-12-19-2019/
Register at: https://docs.google.com/forms/d/e/1FAIpQLSeEKircInI2h7eT8YPhLotEtMO72q7k2UOaYm2zJ1UM2Gdbcg/viewform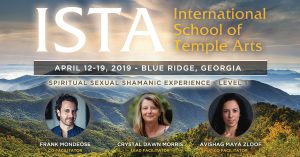 May 6-12, 2019 Portland, OR
ISTA Level 1 SSSEX w Crystal Dawn, Laurie and Raffa
Register at: http://www.karuna-retreats.com/ista-portland/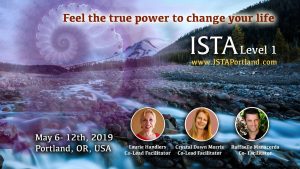 July 7-13, 2019 Easton Mountain, NY
ISTA Level 1 SSSEX Crystal Dawn, Frank and Penney.  Javi as Organizer.
Register at: https://neistatrainings.com/level-1-ny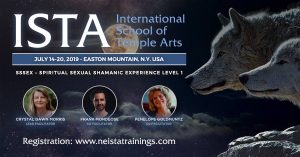 July 15 -21, 2019 Easton Mountain NY
ISTA Level 2 SSSIN w Bruce, Crystal Dawn & Laurie
Javi as Org   Register at: https://neistatrainings.com/level-2-ny-1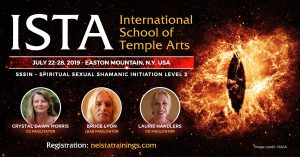 https://www.tantraforawakening.org/wp-content/uploads/2015/03/Tantra-for-Awakening-logo.jpg
0
0
TFA Crystal Sedona
https://www.tantraforawakening.org/wp-content/uploads/2015/03/Tantra-for-Awakening-logo.jpg
TFA Crystal Sedona
2019-02-07 19:51:40
2019-02-07 19:51:40
Crystal Dawn's Upcoming 2019 ISTA Events