Conference of Sex and Consciousness Educators, Sedona, May 7-9, 2010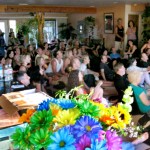 Come celebrate the Awakening of Planetary Arousal and Help Create a Global Orgasm.
Mark Your Calendars May 7-9, 2010 Sedona will be hosting this conference, which was formally called the Daka/Dakini Conference. This is the 9th year of the conference and this is going to be the best one yet.
This year we have are having the Conference at Luxury Spa Resort Hotel and have reserved rooms there for attendees and presenters. We will have two tracks of presentations, one for Sex and Consciousness teachers and healers to expand their skills and knowledge and the other for anyone who is interested in living a more pleasurable, awakened,and joy-filled life.
The Conference Theme is Embracing Arousal-Personal Growth and Planetary Union.
Presenters include Charles Muir, Michael Mirdad, Joan and Tomas Heartfield, Crystal Dawn Morris, Kamala Devi, Angela Sorenson, David Cates and many others. Baba Dez has just returned from his world tour. He will be sharing his stories from the tour and the plans for a Conference in Europe this fall.
Register https://www.eventbrite.com/event/607814991/2010sedonaspringconference/3789540386

Learn more https://www.sedonatemple.com/2010-sedona-west-conference.php
https://www.tantraforawakening.org/wp-content/uploads/2015/03/Tantra-for-Awakening-logo.jpg
0
0
TFA Crystal Sedona
https://www.tantraforawakening.org/wp-content/uploads/2015/03/Tantra-for-Awakening-logo.jpg
TFA Crystal Sedona
2010-02-25 06:56:00
2015-06-06 22:52:19
Conference of Sex and Consciousness Educators, Sedona, May 7-9, 2010