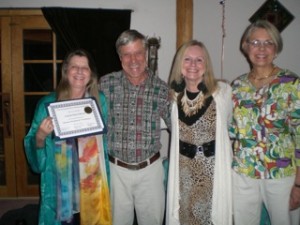 In this picture I am posing with Brad Collins, Star Wolf and Sara Claire as I receive my Certificate as a Shamanic Breathwork Facilitator on March 23, 2011.
Shamanic Breathwork TM beautifully enhances and augments the Core Shamanic Healing work I have been offering since 1995. It also is a great compliment the practice of SkyDancing Tantra. I am excited to be offering this powerful healing process in Sedona. I also plan to offer it around the United states and Canada in the near future. If you are interested in bringing Shamanic Breathwork to your community please contact me for more information at 928-282-5483 or email crystal at tantraforawakening dot com Read more at www.TantraforAwakening.org
Shamanic Breathwork™ is a powerful healing process that reconnects participants with their own inner Shaman healer. Old wounds and dysfunctional patterns are released and transformed, individuals begin to reclaim lost soul parts and remember their true nature. They reclaim their wholeness as they heal themselves, their loved ones and the world at large from a quantum perspective.
This experiential process is guided by the wisdom of each individual's Inner Shamanic Healer. Each person's breath-journey is a unique and highly individual. People report shifts in consciousness ranging from states of bliss to releasing negativity and blocks from their psyche. An experience of being reborn is a common occurrence, as well as a life review. Old patterns of dysfunction may be brought to the surface and healed. Feelings such as grief, fear, rage and anxiety are often released. New insights and solutions to life challenges may occur.
As the Shamanic Breathwork Facilitator I hold a loving and supportive space and may offer healing support in the form of bodywork, energy work and Shamanic healing.
After the journey participants have an opportunity to express their experience through the "Shakti Art Process." Which involves creating a mandala or other piece of visual art to capture the essence of their experience on paper. They also may journal about their experience and also process it verbally.
Crystal Dawn Morris, began her shamanic healing practice in 1995. She trained with the Foundation for Shamanic Studies for 8 years and numerous indigenous teachers as well as her own spirit guides. She is now a Certified Shamanic Breathwork Practitioner, trained by Star Wolf and Brad Collins, the founders of The Venus Rising Institute. Crystal Dawn is also a Certified SkyDancing Tantra teacher and the founder of Tantra for Awakening. She draws on a diverse background of experience- as an ordained minister, Certified Nurse-Midwife, Reiki Master, and Spiritual Sexual Shamanic Practitioner. She has over 20 years experience as a healer and a teacher. Individual healing sessions can be booked with Crystal Dawn. Contact her at 928-282-5483, cell 928-862-0762. Learn more at www.TantraforAwakening.org
https://www.tantraforawakening.org/wp-content/uploads/2015/03/Tantra-for-Awakening-logo.jpg
0
0
TFA Crystal Sedona
https://www.tantraforawakening.org/wp-content/uploads/2015/03/Tantra-for-Awakening-logo.jpg
TFA Crystal Sedona
2011-03-25 20:56:01
2015-06-06 22:35:45
Shamanic Breathwork Sessions in Sedona