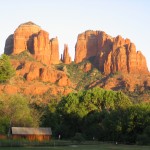 Friday, September 16th, was a special day in Sedona. Over 50 people came to the Sedona Creative Life Center and experienced a free day of Shamanic Breathwork TM facilitated by Linda Star Wolf and Brad Collins, founders of the Venus Rising Association for Transformation. They were assisted by a team of Certified Shamanic Breathwork Facilitators and Shamanic Ministers who have been studying with them for the past year.
Star Wolf began the day with an inspiring talk about the importance of stepping into our power and transforming ourselves by connecting to our future-selves. Her new book called, Visionary Shamanism will be released in November and can be pre-ordered on Amazon. She then shared an overview of the day- which consisted of Shamanic Breathwork in the morning, followed by the Shakti Art Process. Then a healthy lunch donated by Pita Fresh, Dahl and DiLucca and Simply Dahlicious Catering.
We gathered in the afternoon and honored the sponsors of the event: John of God Casa, Peace Place Reiki Center, John Livingston, Kristin McGary, Inner Space, Nutrition with Jane, Christine Ryan-Schmierer, Sedona Intuitive Astrology, W. Interiors and Your Heart's Home Retreat.
We then proceeded with the afternoon SBW followed by the Shakti Art Process. After completing the second round we broke into 12 small process groups. Each group was led by an experienced facilitator who supported each person as they shared their SBW experience and art with the group.
Before closing we came together in as a large group and people shared. They described their process as powerful, healing, transformational, life-changing, safe, loving and awesome. There were several comments about how much gratitude people felt for this free event and for all who made it possible.
The planning committee, who are all Shamanic Breathwork Facilitators, were acknowledged for their hard work. They include: Crystal Dawn Morris,John Livingston, Meredith Davis, John Berry Deakyne, Tracy Roman, Dean Taraborelli and Kelley Alexander.
We ended the day by holding hands and singing a song. What a wonderful day of healing and celebration!

Find a Shamanic Breathwork Facilitator
https://www.tantraforawakening.org/wp-content/uploads/2015/03/Tantra-for-Awakening-logo.jpg
0
0
TFA Crystal Sedona
https://www.tantraforawakening.org/wp-content/uploads/2015/03/Tantra-for-Awakening-logo.jpg
TFA Crystal Sedona
2011-09-22 21:17:29
2015-06-06 22:32:18
Breathe Sedona a Huge Success!